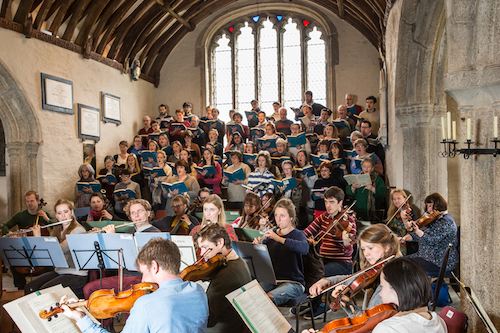 46th Easter Festival
    

13 April - 21 April 2019
The next St Endellion Easter Festival will take place from 13th to 21st April 2019. We are pleased to announce that David Watkin, Professor of Strings at the Royal Scottish Conservatoire and Gramophone Award winner for his definitive recording of the Bach Cello Suites, has agreed to return as Guest Music Director of the 2019 Festival.   We shall make announcements about the programme as it comes together during the summer and autumn 2018. 
The 2018 Festival (click here to see the 2018 programme), which ran from March 31st to April 8th, was a huge success.  Despite some very wet weather and a nasty strain of flu which made the rounds of the performers, it was a happy festival which made wonderful music.   David Watkin was on great form, eliciting performances of the Messiah and Beethoven's 3rd Symphony which were startling in their clarity and in the flowing lines of their musical phrasing.   His performances were supported by some inspirational conducting of Finzi and Britten by Eamonn Dougan; of Holst by Adam Hickox, making his debut on the Easter Festival rostrum and following in his father's footsteps; and powerful directing of Tchaikovsky by Andrew Watkinson.   Behind these 4 larger choral and orchestral concerts, there was a series of 3 chamber concerts, 2 late night concerts, and the opening Come and Sing which this year featured Fauré's Requiem.   We had amazing piano playing from a stellar line-up of Sumi Kim, Caroline Palmer, Christopher Glynn, Viv McLean and Craig Milverton; lovely string playing by Fran Barritt, Andrew Watkinson, Shuna Wilson and Dan Bull; beautiful oboe playing by Polly Bartlett and sax playing by Andy Williamson; and fabulous singing by Katy Thomson, Katy Hill, Charlotte Mobbs, Eamonn Dougan, Kate Symond-Joy, Matthew Long, and Tim Dickinson.  The weekdays of the Festival began with an excellent series of Thoughts for the Day, and there were two sung services on the Festival Sundays, one of which was Easter Day. 
The festival cannot run without its support teams for cooking, crèche, car parking, coffee making, orchestral and chorus fixing, library, stage management, front-of-house and box office. They sometimes don't hear the rapturous applause in the church - which really applies just as much to them as to the musical performers.
… And of course, we cannot survive without our immensely loyal and supportive audience. We look forward to seeing you back at St Endellion next Easter.