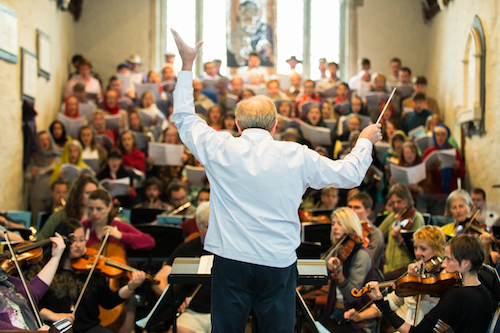 59th Summer Festival 
25 July - 4 August 2017
Artistic Director Mark Padmore looks back on a remarkable festival
Music-making amongst friends - inspired and nourished by an imaginative and adventurous community - that is what I believe the St Endellion Festivals are all about. The 2017 Summer Festival was in many respects a superlative example of what St Endellion can achieve. On paper the programme might have seemed crazily ambitious - Billy Budd, the Verdi Requiem and a large extract from Wagner's Götterdämmerung - but, as so often, the challenges only seemed to inspire greater effort.  All aspects of the Festival joined in the excitement of striving for and achieving formidable goals - the box office and stewards managed capacity audiences with good humour and ingenuity - Yasha Morgenstern's team of stage managers were more attentive and helpful than ever - the kitchen provided a hungry crew with delicious and plentiful food - Junior Endellion looked after the children and inspired the next generation of participants. Everyone joined in - from car parking to lifts to and from Bodmin, washing up, programme selling, moving staging and even rescuing cars from muddy fields.
Musically, standards have never been higher. We will each have our special favourite concerts but for me the Verdi Requiem in Truro Cathedral was one of the greatest performances I have ever heard of anything. Rachel Nicholls' Brünnhilde was also an absolutely compelling performance - heart-stopping in its intensity - and the sort of performance only possible at St Endellion - completely honest and unmediated. Chamber highlights included a gorgeous performance of Brahms'  2nd String Sextet and I was particularly proud to be part of the concert celebrating the poignant and stirring poetry of Charles Causley alongside Jon Cleave, Victoria Newlyn and Morgan Szymanski. Equally memorably was the late-night performance of Walton's Façade, featuring instrumentalists from the festival orchestra, Rory Kinnear, Pandora Colin and Victoria Newlyn, conducted by Aidan Oliver, the festival's associate conductor. It was also fantastic that Adam Hickox was able to step into the breach at short notice and play brilliantly in the Walt Whitman programme. The women of the Festival Chorus were stoical about being excluded from HMS Indomitable and sang absolutely beautifully in their two concerts - wonderfully prepared and conducted by Frances Cooke. And, finally, Billy Budd. What an experience for us all - from powder monkeys to Captain - to perform this masterpiece in the upturned boat that is the church of St Endellion! There have been many magical performances in this beautiful building over the last 59 years and I am sure that every member of the audiences that witnessed Billy Budd, conducted with supreme assurance by Ryan Wigglesworth, will agree that these are among the most moving and memorable.
Ralph Waldo Emerson the great American writer and philosopher wrote that 'nothing great was ever achieved without enthusiasm'. The St Endellion Festival is living proof of the truth of those words.  Watch this space for details of our 60th summer festival in 2018, which we are planning now.  And save the dates - 31 July - 10 August 2018.