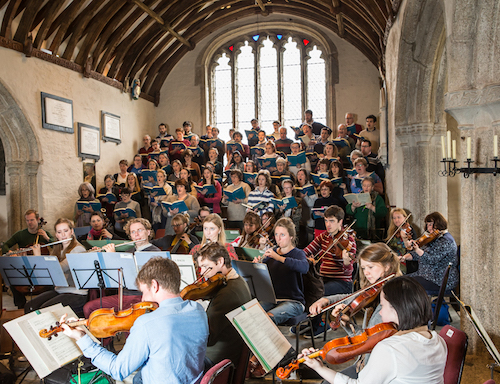 45th Easter Festival 
31 March - 8 April 2018
The next St Endellion Easter Festival will take place from 31 March - 8 April 2018.   We are pleased to announce that David Watkin, Professor of Strings at the Royal Scottish Conservatoire and Gramophone Award winner for his definitive recording of the Bach Cello Suites, has agreed to return as Guest Music Director of the 2018 Festival.  He will be conducting Handel's Messiah on Friday 6th and Sunday 8th April.  Our other two full choral and orchestral concerts will be on Wednesday 4th April and Saturday 7th April.  On 4th April, the programme, conducted by Eamonn Dougan, Andrew Watkinson and Adam Hickox, will comprise Finzi's Eclogue for Piano and Strings; Britten's Rejoice in the Lamb; Bach's double concerto for oboe and violin; Holst's This have I done for my own true love for a cappella choir; and Tchaikovsky's Souvenir de Florence for string orchestra.  On 7th April, a programme to commemorate the last year of the First World War, conducted by Eamonn Dougan and David Watkin, will comprise Butterworth's Banks of the Green Willow; Finzi's Requiem da Camera; and Beethoven's 3rd Symphony (the Eroica).   The Festival will also feature two chamber concerts (1st and 3rd April), two late night concerts – one of baroque vocal music and one of jazz (3rd and 5th April); a lunchtime Chopin piano recital at St Kew (4th April); two sung church services (1st and 8th April); Thoughts for the Day each weekday morning at 9am; and a Come and Sing (Fauré Requiem) (31st March), conducted by Oli Tarney.  Our line-up of soloists will include Andrew Watkinson; the Galini Piano Trio; Chris Glynn; Viv McClean; Polly Bartlett; Fran Barritt; Katy Hill and Andy Williamson.    
Meanwhile, have a look at the 2017 Festival programme so that you can see the shape of our Easter Festivals – professional and good amateur musicians coming together to perform 9 concerts in 9 days – for free and for the love of it.