Friends and Patrons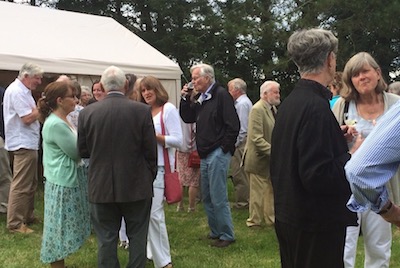 The St Endellion Festivals Trust is a registered charity aiming to bringing top quality classical music to North Cornwall, as well as to give young musicians the opportunity to learn from and perform alongside household names. It is also a partner of its sister charity Endelienta, which provides a year-round programme of events on the St Endellion campus and in the local area.


The extraordinary music-making that takes place at St Endellion every Easter and Summer is the result of the huge goodwill invested in the organisation by its participants. No-one, not even our grandest soloists or most renowned conductors, gets paid, and almost all members of the orchestra and chorus contribute to their board and lodging. 


We have some 150 people at Easter and up to 250 in the Summer to accommodate and feed, comprising not only the musicians but also the support teams for logistics, catering, and Junior Endellion. In addition there are staging costs and hiring costs for  music, instruments and marquees,  as well as the maintenance of the Farmhouse and Stone Barn. 


The Festivals are self-supporting. We do not receive public funding or business sponsorship. Our main sources of income are box office, participants' fees and private donations. We have a small amount of private sponsorship to support bursaries for young musicians who cannot afford the fees, and to offer concert tickets to encourage young people to experience the Festivals.


By becoming a Patron or Friend you can enjoy the privileges listed below in the knowledge that you are ensuring the sustainability of these unique festivals and helping them to continue to flourish.


Friends
• Annual subscription of £40 (paid by Standing Order)
• Twice-yearly mailings of the Easter and Summer Festival programmes
• Priority booking
• Annual newsletter
• Invitations to Friends' events
• Advance notification of St Endellion Festivals-related events taking place elsewhere


Patrons
• Annual subscription £150
• By joining our new Patrons' scheme you enjoy the same benefits as Friends,  with the additional knowledge that you are contributing even more to the sustainability and future success of the Festivals.
• You will be listed as a Patron in the Summer and Easter Festival programmes unless you wish to remain anonymous.


The support of our Friends and Patrons makes a vital contribution to the viability of the Festivals and for this we are immensely grateful.


HOW TO JOIN
If you would like any further information or wish to discuss becoming a Patron or Friend, just contact the Friends' Secretary (details below) by e mail or phone. 


To join by post
Click here to print out the Standing Order form and Gift Aid declaration (if appropriate). These should be completed and sent to the Friends' secretary.


To join electronically
Click here for instructions.
Friends Secretary
Catherine Sandbrook
Email: catherine.sandbrook@endellionfestivals.org.uk 
Telephone: 07730 420385
THANK YOU FOR YOUR GENEROUS SUPPORT