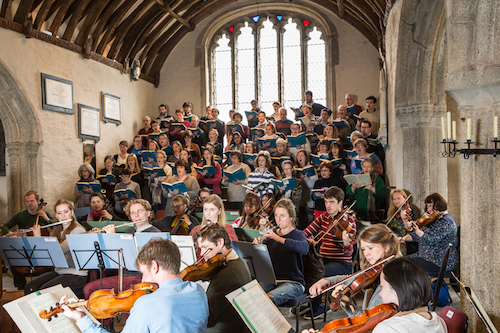 4 April - 12 April 2020
We are thrilled to share the programme for the 47th Easter Festival and to take this opportunity to introduce ourselves. We are honoured to become Co-Chairs of the St Endellion Easter Festival Committee - the Easter Festival holds a special place in our hearts, and we will work tirelessly to cherish it and all those associated with it. We would like to thank Ian Sandbrook for all his commitment and hard work as Chair, and we will endeavour to continue developing the festival with the wisdom, wit and wonder that he and Fran Hickox have inspired and exemplified.
The programme for the 2020 Easter Festival has daily delights with a strong Caledonian connection (as ever!) that dates back to the very genesis of the Festival. We feel it is essential to remain true to the roots of Easter Endellion and we are acutely aware that we are a (relatively) new addition to the fabric of this eclectic history. It is our wish to blend new ideas with a deep respect for the foundations of Easter Endellion, to the very stones of the building, imbued with the musicmaking of those who came before us. There can be no greater example of this than The Endellion String Quartet, led by the inimitable Andrew Watkinson who is an Endellionite to the core: catch them in action on Tuesday 7 April, in an atmospheric and poignant Lenten candlelit meditation, infused with text read by Endellion favourite, Patrick Gale.
The 2020 Festival is blessed with rich talent, not least with our conductors and musical leaders, to guide us through the spiritual journey of Holy Week. Our Celtic ties continue with Sir James MacMillan, who will conduct two evening performances of his devastating Stabat Mater, as well as discussing his recent memoir A Scots Song: A Life in Music with Patrick Gale at the St Kew Lunchtime Prom on Thursday 9 April. Newly appointed Assistant Conductor of the Rotterdam Philharmonic, Adam Hickox comes back to his musical home and fizzes with energy in Stravinsky and Mozart. Our triptych of conductors is completed by none other than Maestro David Watkin, who returns to captivate and inspire, travelling from the wilds of Glasgow to share his unique musical insights - closing the festival on Easter Sunday (12 April) with delicious Delius, Haydn's Nelson Mass and Beethoven's masterful Symphony No. 7. Our chamber concerts this year combine a celebration of great British music as well as looking forward to the German masters that dominate the larger concerts at the end of the week. British and German influences combine in the works of Sir Hubert Parry which will feature in the "Come and Sing" on Saturday 4 April, led by Oliver Tarney - what better way to kick-off the Festival than with a rousing chorus of I was Glad?
Do also join us for the Services that bookend the Festival as well as the precious moments of reflection that begin each day ("Thought for the Day").
We are hugely looking forward to seeing you in Cornwall in April and cannot wait to share this glorious programme with you.
Katy Thomson & Suzanne Doyle Co-Chairs, St Endellion Easter Festival